NEW CONSTRUCTION
Building on a strong Foundation.
Maguire Construction is a general contractor, who sees your residential project through to its completion. We are a constant presence on site to ensure efficiency, progress, and quality work from our own employees and associated subcontractors throughout all phases of construction. It is because of Maguire Construction's collaborative approach, and its experienced, dedicated builders, that we are able to provide the attention and commitment needed to ensure that your home is a summation of Maine's highest quality craftsmanship.
CONTEMPORARY ISLAND RETREAT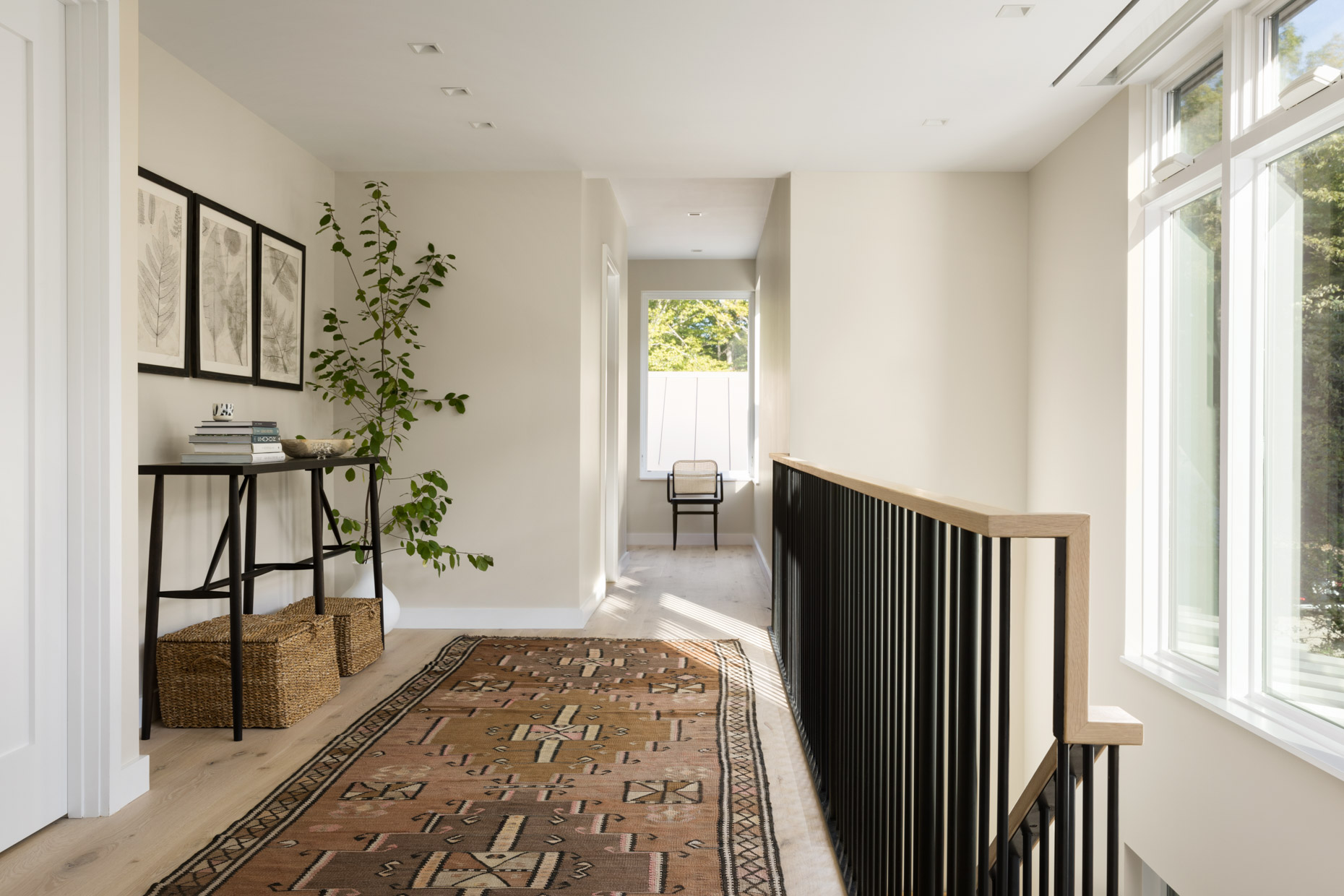 An absolutely stunning modern home with clean, contemporary lines sits on the edge of Maine's beautiful coast. Sprawling over eight thousand square feet of open concept architectural design, it still feels intimate in its individual spaces. The home's most noticeable architectural feature are the windows stretching from floor to ceiling in the entirety of the waterside elevation, creating seamless transitions between indoor and outdoor spaces for family and friends to enjoy. The home is filled with exceptional spaces with natural oak shiplap walls, cozy children's bunk beds, wine storage, and enormous metal fireplace surround.
Each space representing the beauty of a contemporary's minimalist aesthetics and exceptional craftsmanship, while still exuding the warmth and comfort of a loving family's home.
WHITTEN ARCHITECTS - DAVIS SCOTT STUDIO - BLACK BEAR CABINETRY & FINE WOODWORKING - TRENT BELL PHOTOGRAPHY
FORESIDE HILL
Cumberland Foreside, Maine
This home's front elevation is very unassuming, with a detached garage connected by a long colonnade. Its water-side elevation is quite the opposite: it towers over thirty feet upwards, with elaborate stonework reaching the second floor, and a winding stone stairway leading up to a slate patio and stone turret. With an astounding one hundred and nine windows, every room in the house has a water view.
KENNEBUNK RIVER ARCHITECTS - NICOLA'S HOME - BLACK BEAR WOODWORKING & FINE CABINETRY - JEFF SCHER PHOTOGRAPHY
Cumberland Foreside, Maine
Rat's Nest may be an unusual name, but it is an ode to this property that has been in the family for generations. The original cottage, which was beyond repair, was removed to make room for the home that stands there now. This home showcases amazing architectural woodworking with wood paneling climbing the formal stairway, tapered columns in the dining room, paneled archways between entertaining spaces, and beaded inset custom kitchen cabinets.
KENNEBUNK RIVER ARCHITECTS - CENTERLINE DESIGN & BUILD - BLACK BEAR WOODWORKING & FINE CABINETRY - JEFF ROBERTS IMAGING
Cumberland Foreside, Maine
BIRCH POINT
Freeport, Maine
This four season vacation home is an Arts and Crafts inspired gambrel, featuring a unique round-ended, wrap-around porch overlooking Haraseeket Bay adorned with large square tapered columns. Throughout its over four thousand square feet of living space, you will find such personal details as an art studio located over the garage, floor to ceiling built-ins in the master bedroom, and a two person sauna in the master bathroom, all complimented by bright and vibrant colors.
KEVIN BROWNE ARCHITECTURE - MARTHA COOLIDGE DESIGN - BLACK BEAR WOODWORKING & FINE CABINETRY - JEFF SCHER PHOTOGRAPHY